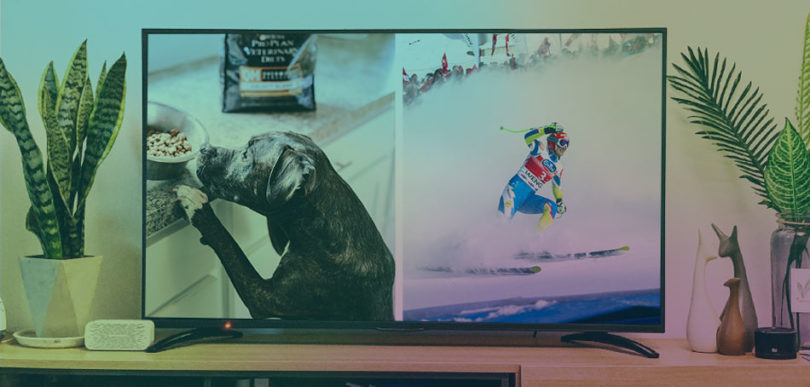 In pursuit of human attention
We noted that TV6 used a split screen solution for advertising during the Skiing World Cup which enabled viewers to follow the competitions even during the commercial break. Curious as we are, we decided to investigate whether the public noticed the advertising format, whether they liked the solution and if they paid more attention to the advertisement than usual.
Advertising regulations in Sweden are tougher than in many other countries, and new forms of advertising such as split screen, mini-spots and interactive advertising have long been considered not possible to use without violating the Radio and TV Act's rules on ad placement. Today, split-screen advertising is allowed to appear in television broadcasts consisting of live events that run without interruption. But are they more effective than regular commercial breaks?
Lower attention compared to regular commercial breaks
Overall, one in three (32%) Swedes had paid attention to the split screen and to the highest degree the age groups 50–64 years (38%) and 65–84 years (40%).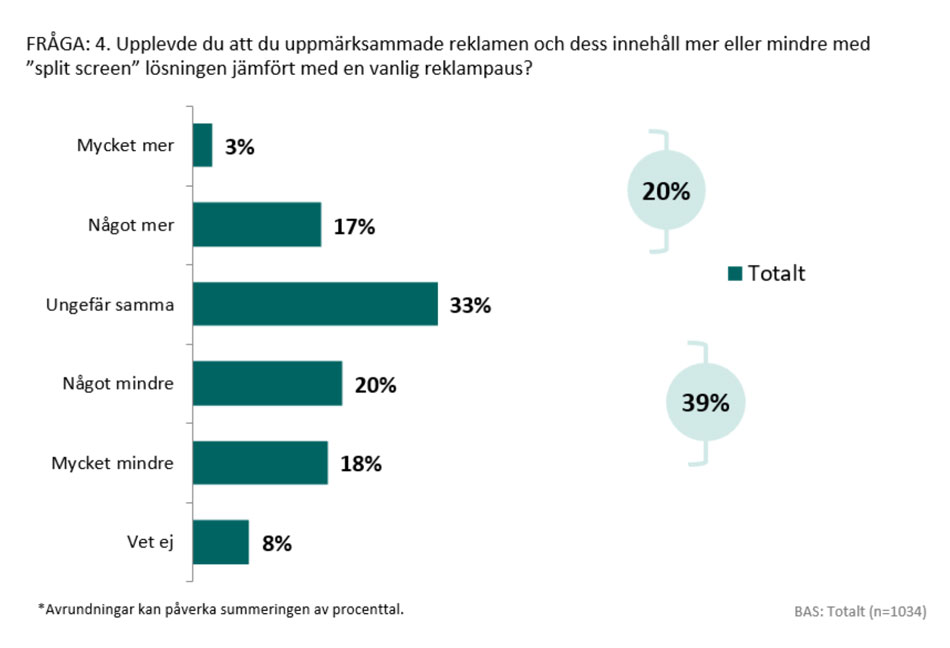 One in five (20%) felt that they paid attention to the advertisement and its content a lot or somewhat more compared to a regular commercial break, while four out of ten (39%) paid attention to the advertisement somewhat or much less. If the aim is to make viewers pay more attention to the advertisement, the split screen solution only produced the desired effect on one in five. Four out of ten believe that the solution had the opposite effect, which leads us to believe that regular commercial breaks capture more attention.
The general advertising fatigue
Respondents were also asked to state what they thought of the split screen solution compared to how advertising is normally displayed. The open answers are somewhat divided, the comments are largely negative about advertising in general, but among those who are negative about the split screen solution specifically, there is an irritation about the amount of information that comes with the split screen.
"Dålig. Blir svårt för hjärnan att fokusera. Skapar stress" 
("Bad. It becomes difficult for the brain to focus. Creates stress").
"Sådär. Man får ju inte fullt fokus på det man tittar på" 
("So-so. You can't fully focus on what you're looking at").
De som i stället är positiva till delad skärm som reklamlösning menar att det är positivt i den bemärkelse att sändningen inte behöver avbrytas helt.  
"Bra sätt. Man missar inget vid ett direktsänt sportevenemang" 
("Good solution. You don't miss a thing at a live sporting event").
"Bättre för att man fortfarande kan följa det man tittar på" 
("Better because you can still follow what you're watching").
Human attention is hard currency and one of the advertising world's most sought-after commodities. Advertising simply needs to grab attention or it's a waste of money. Given how the respondents answer and reason, we can state that split screen is also equal to split vision. Advertising receives less attention, which means that the conditions for brand building deteriorate.
Lovisa Brunnberg – Consultant Novus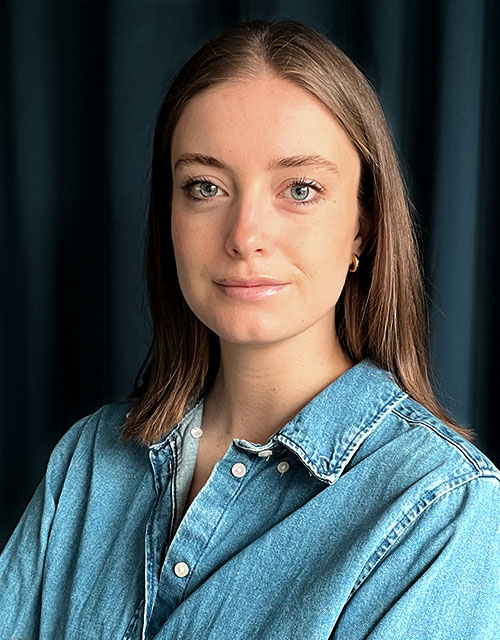 Every month we offer knowledge, facts and reports in the area of branding and communication in the form of Novus Brand Letter.
Do you want to take part in it? Subscribe here.