Novus – we understand how people think
Novus is one of the country's leading analysis and research companies. We are at the center of the intersection of all the key players in the society, which means that we have a unique knowledge and insight into today's ever-faster development and change. We, like few others, can follow and analyze our time, and contribute with analyzes that create real change. We can tell you how things are the way they are, and provide guidance in how they can make changes and grow.
Novus is headquartered at Sveavägen 59 in Stockholm, but also has an office at Skeppsgatan 19 in Malmö.
Novus Group International AB is a public company and listed on the Spotlight Stockmarket (formerly called Aktietorget, renamed May 2018) in Stockholm.
Contact us here for more information.
Novus in the world
We are currently set up to conduct surveys in 50 countries worldwide. The list of countries where Novus conduct surveys is constantly growing.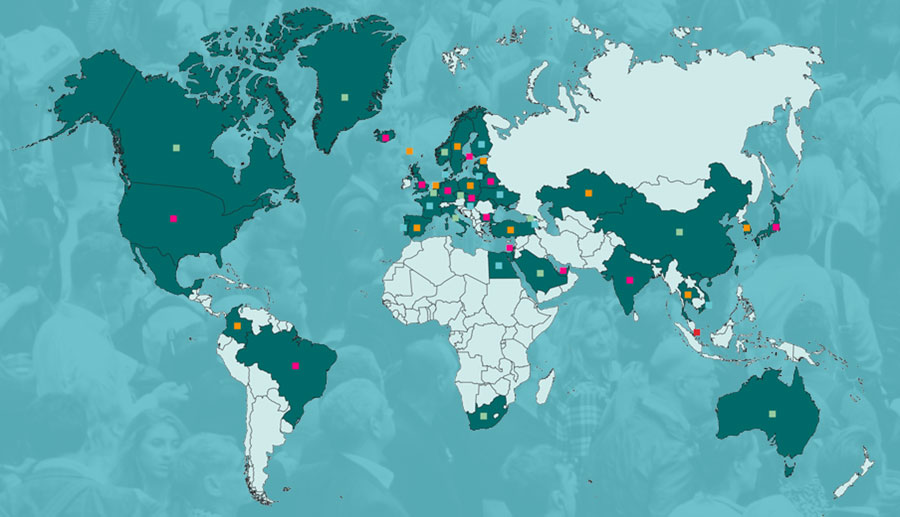 Armenia, Australia, Belarus, Belgium, Brazil, Bulgaria, Colombia, Denmark, Egypt, Estonia, United Arab Emirates, Faroe Islands, Finland, France, Georgia, Greenland, Holland, India, Iceland, Israel, Italy, Japan, Canada, China, Latvia, Lithuania, Mexico, Moldova, Netherlands, Norway, Poland, Portugal, Saudi Arabia, Singapore, Slovakia, Spain, United Kingdom, Sweden, South Africa, South Korea, Thailand, Czech Republic, Turkey, Germany, Ukraine, Hungary, USA, Vietnam and Åland.
Esomar Corporate 2022
Novus är medlem i Esomar och följer dess internationella regler för marknads- och samhällsundersökningar – läs mer här


Novus är Gallup Internationals representant i Sverige
Novus är medlem i det internationella nätverket Gallup International, och är därmed Sveriges representant i organisationen. Gallup International är världens äldsta undersökningsorganisation med representanter i 65 länder som genomför undersökningar i över 130 länder i världen och når över 80 % av jordens befolkning. Endast ett företag per land kan vara medlem.

Novus har högsta kreditvärdighet enligt Bisnode